2 years ago
Perfect for Tea Time - Assignment 3
I have never made scones before and I was really impressed with this recipe since I already had all of the ingredients lying around my kitchen. Not only did the maple smell amazing baking, it tasted just as good.I followed the advice to add a very heaped tablespoon of the baking powder and I used buttermilk. I do not have a biscuit cutter so I used a circle shaped cookie cutter to shape my scones.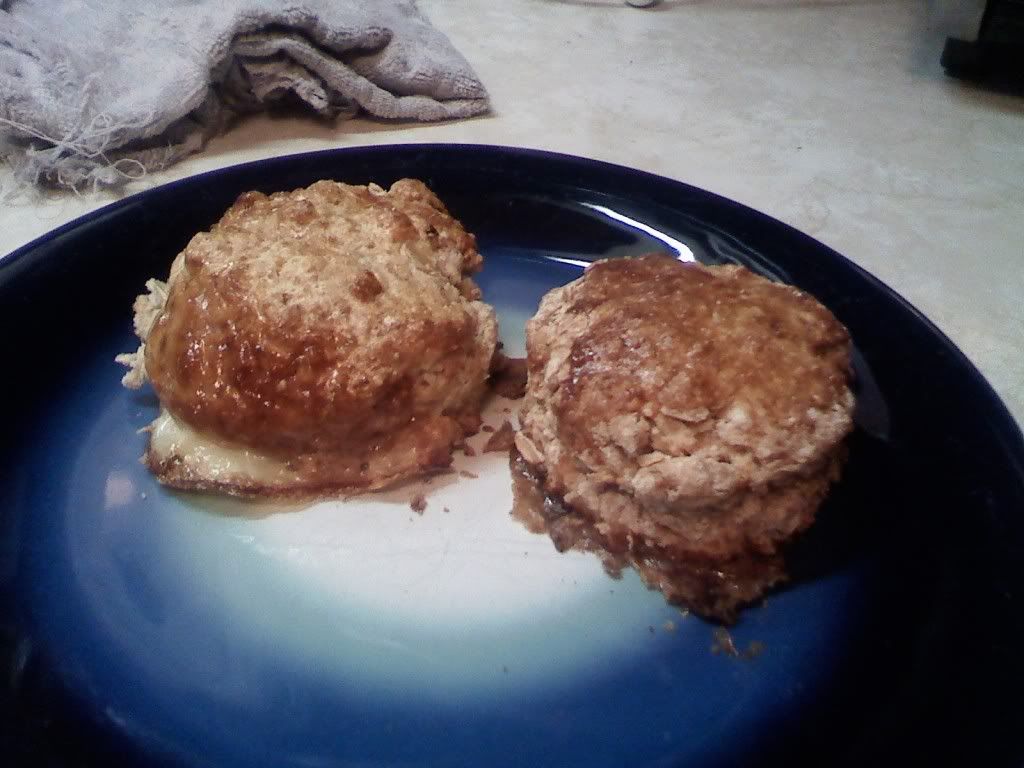 The scones came out great and went perfect with a cup of tea. (As you can see in the picture I spilled a bit too much egg on one of the scones) I would make these again if I was having people over and would serve it with tea and other finger snacks.
-Katie.
blog comments powered by

Disqus
2 years ago
First Time Not a Charm: Assignment 3
I just joined Baking Club and was delighted to determine that I had all of the ingredients for these scones already in my kitchen.  Since I have never made scones before (I'm more a cookie, quickbread, and occasional cake baker), I was excited to try them.
I pretty much followed the recipe as written, using the old-fashioned oats.  I did not have a biscuit cutter but since my 1/4 cup measure was about the right size,  I used that.
Overall, I'd say the scones were okay.  They were a bit dry, and, while my husband would point out that scones typically are, I think mine were a bit too much so for my taste.  It may be due my caution in making sure the dough was "not sticky."  The scones crumble very easily.  However, all is not lost; they were improved by a little butter spread on them!
I'm not sure whether I'll make them again or not.  If I do, I'd add a little more milk to make the dough a little wetter than it was this time.
blog comments powered by

Disqus
2 years ago
Smells Like Heaven: Assignment 3
I spent the first part of a lazy Saturday morning baking this week's assignment, and it is an AMAZING recipe. These are honestly some of the best scones I have ever had. Ever. My husband loved them, and our whole apartment now smells delicious to boot.
I didn't really make many modifications to the recipe this go round—though I did use old fashioned, not quick cook oats, as the purveyor of Smitten Kitchen used herself. I also didn't use a biscuit cutter to shape them, and just made little mounds with my hands, so the scones are not uniform in size really.
The scones have this marvelously rich flavor… it comes in stages. You get the oatyness, and then a buttery bit, and then finally a sweet maple kick at the end. 
We buttered ours (well, technically we used vegan spread) and they were divine that way. I tried a couple bites with some strawberry preserves, which is definitely yummy but does overpower the natural flavors in the scone, so I wouldn't recommend it for more than a bit or two if you really want to experience the full scone flavor (something I never expected to write, that).
I'll definitely be making this recipe again and again and again! Once you've baked yours, submit you photos and opinion here.
Love,
Sara
blog comments powered by

Disqus
2 years ago
Assignment 3: Maple Syrup and Oat Scones
Cruising around to find our third assignment, I went over to one of everyone's favorite food blogs, Smitten Kitchen. And boy do these scones look awesome!
So, let's hop to it!
(Photo by Deb Perelman, author of Smitten Kitchen)
————————————————-
 Maple Syrup and Oat Scones
Adapted from Breakfast Lunch, Tea: The Many Little Meals of Rose Bakery
These maple syrup scones have oats, whole wheat flour and maple syrup but are just barely sweet yet not at all gritty with healthfulness. I think it's the substantial amount of butter within. Of interest, most of my favorite scones have heavy cream in them; this one does not but it has nearly the same amount of butterfat due to the higher amount of butter.
About the weights: In this recipe, they're provided by the book's author, not me. They differ from what I'd measure in my own cups and spoons but you can feel safe following them just the same, as they work — I did.
Yield: The book suggests 10 to 12 but I made mine (ruler-measured! yes, I'm ocd!) their suggested size and only got 8.
1 3/4 cups (260 grams) all-purpose flour, plus extra for dusting surface
1/2 cup (80 grams) whole wheat flour
1/2 cup (35 grams) rolled oats (I used quick-cooking)
1 very heaped tablespoon baking powder (I only slightly heaped; wish I'd heaped more!)
1 very heaped tablespoon superfine (caster) or granulated sugar
1/2 teaspoon table salt
Scant 3/4 cup (160 grams) unsalted butter, cut into pieces
1/4 cup maple syrup
1/4 cup milk or buttermilk
1 egg, beaten (for glaze)
Preheat your oven to 400°F (200°C). Butter a baking tray, or, if you're me and your baking sheets are in horrendous condition, line them with un-buttered parchment paper.
Whisk the flours, oats, baking powder, sugar and salt together in a large bowl. With a pastry blender or your fingertips, work the butter into the dry ingredients until the mixture resembles fine breadcrumbs. In a small dish, combine the milk and syrup, then add these liquid ingredients to the butter-flour mixture. By hand or with a rubber spatula, bring everything together to form a softish dough. If it feels too dry, add a little more milk but not enough that the dough is sticky. "The dough should not be stick at all," the book admonishes.
On a lightly floured surface, pat or roll the dough out until it is 1 1/4 inches (3 cm) tall. Using a 2-inch (5-cm) cutter, cut the dough into rounds and place them on the prepared tray so that they almost touch. Glaze the tops with beaten egg and bake for 20 to 25 minutes until the scones are lightly golden. The scones will stick together, so pull them gently apart when they've cooled a bit — pull-apart scones!
Serve warm.
————————————————-
Giddyup! Due date is April 9.
Love,
Sara
blog comments powered by

Disqus
Random Daze theme by
Polaraul